Shop Local Deals This Weekend!
<![CDATA[Love At First Light means...Skip the Mall and Shop Local! Who needs to get up at midnight or 5 am to go shopping?!!! Skip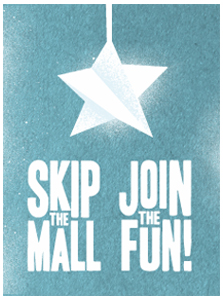 the insanity of long lines and traffic! Right here in The Junction the local merchants have some great deals this Black Friday and Small Business Saturday…
Black Friday Record Store Day at Easy Street Records – Get exclusive, limited edition goodies made of vinyl and metal. Get your holiday shopping done for all the music fanatics on your list! How about 7″ singles boxed sets by the Beatles, the Doors, Bob Dylan? Or John Lennon's Imagine 40th Anniversary Box Set? *Note: No pre-orders or holds for Record Store Day titles. Select unsold titles may be added to the website after the event. Limited number per customer. Regular store hours apply.
Black Friday at Knows Perfume – Everything at the shop will be 25% off (so snag that perfume you've been eyeballing), and they will have cupcakes and hot cider to fortify you while you're shopping. Also, for every $75 spent, you'll receive a voucher for a free sample set of your choosing.
Black Friday at Capers – Holiday-scented candles are buy one, get one half off!
Black Friday at Clementine – Take 25% off any item-boots, shoes, gloves-that's all black!
Black Friday at Fresh Bistro – Shop local and bring your receipt for any purchase over $50 from a store in The Junction and get 25% off your meal (brunch or dinner) on Friday 11/25!
Friday & Saturday at Click Design that Fits – 25% off all glassware on Friday and Saturday!
City Mouse Studio & Store – Small Business Saturday SALE on Friday 25th and Saturday 26th only. 40% off select clothing, shoes and accessories, 25% off all Roxy clothing and Tea Collection PJs and 15% off everything else in store!
]]>