Mark your calendars for Harvest Fest! A FULL WEEK of Howling Good Fun
Now in our tenth year, the Junction's Harvest Festival has become a favorite event for West Seattle.  The Harvest Festival is good community fun! Quickly becoming a West Seattle beloved fall event, Harvest Fest will look different this year, but that won't stop the community from donning costumes (kids, adults, and pets welcome!) for a full week of Harvest-y fun. The West Seattle Junction can't close down California Ave for this fantastic fall festival, so your downtown is bringing Harvest Fest to you.
Scavenger Hunt – Monday, October 25th – Sunday, 31st
What flies above but haunts below? You'll need to figure out this clue, plus 12 more to get the goods during the second annual Harvest Fest Scavenger Hunt. Beginning on Monday, October 25th, pick up your scavenger hunt map from participating businesses. Or, if you purchase a tote bag, the scavenger hunt map will be included.
Harvest Fest Tote Bags for kids and adults
Harvest Fest Totes for Kids – The Junction is bringing the joy of Harvest and Halloween in one special tote. Each box has a seasonally themed or musically themed craft, individually wrapped Halloween treats, and a special surprise from the Junction! $35 each ($45 value). UPDATE: There are three remaining tote bags! Email the Junction here for yours. Pick up at the Junction office (located above Shadowland) – we will email you an invoice to pay via credit card.  
Harvest Fest Tote for Adults – The grown-up version of the Harvest Fest Tote, this treat brings you all the local and cozy feelings of the season from the Junction to you. $55 each ($65 value) 21+ ID required. SOLD OUT
Haunted Trivia Night Hosted by Pegasus Book Exchange – Friday, October 29th, 7:30 PM
Hosted by Pegasus Book Exchange and Rachel Ask Me Questions, join together (via Zoom), for a haunting good time. Friday, October 29th, 7:30 PM. Up to six people per team, you can join from different households. Prizes for first place, best team name, and best Zoom background. Register your team here -$25 team up to six people (don't need to be from the same household).
Trick or Treat – Sunday, October 31st, 10 AM to 2 PM
Gather your monsters for a good ol' fashioned Trick or Treat in the Junction on Sunday, October 31st 10 AM to 2 PM. The Junction won't be closing down California Ave due to the pandemic, but the merchants will have candy and goodies to hand to your witches and warlocks. Also, look for the candy stations dotted up and down California Ave hosted by the Junction partners and Junction volunteers. Need a reminder? Join the Facebook invite here.
Businesses and Neighborhood Groups – CLICK HERE to join us for Harvest Fest/Trick or Treat.
Check out the festival fun: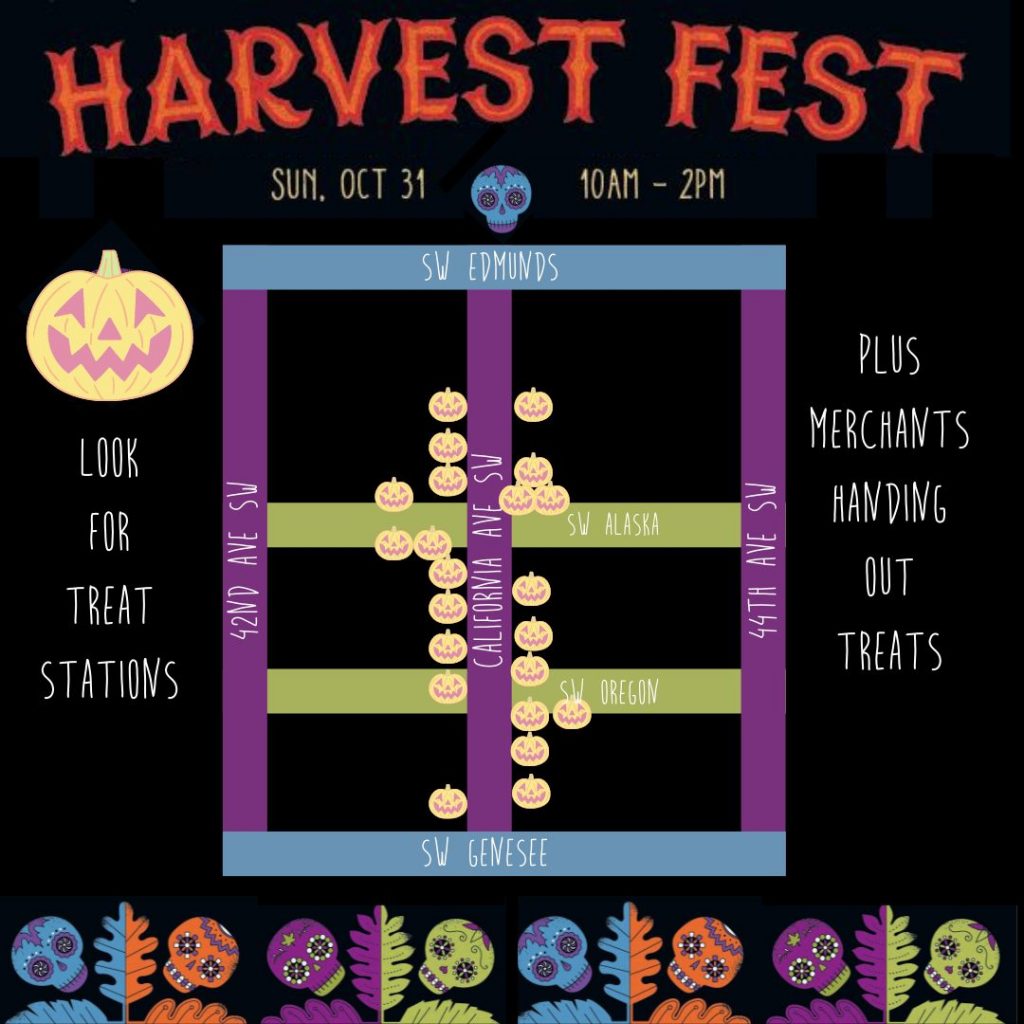 Happy Harvest Fest!
Take a stroll around the Junction to experience the gourds and decorations dotted throughout the Junction and displayed in windows. Beware though of the giant spiders lurking in the Junction! Did you find all six?