If you love to give in the West Seattle Junction, this is the place for you.
Join the growing number of volunteers who are doing good in the Junction neighborhood.
The West Seattle Junction is a thriving community located in the heart of West Seattle. We are seeking ongoing opportunities for volunteers to spend worthwhile time making the Junction a thriving and exciting place to live. Opportunities range from festival support to Junction ambassadors, to street team, to Junction clean-up.
We also have volunteer opportunities during our many community events including Harvest Festival, Spring Clean Up, Hometown Holidays, and Art Walk.
Currently, we're accepting volunteers for:
Social distancing + volunteering + getting your steps in = Junction social distance cleanup kit.
While the Junction is emptier than usual, take the opportunity to help out by walking around picking up debris! Four kits at a time will be handed out to maintain plenty of distance. Interested in helping out? Email the Junction to schedule the pickup time for your social distance cleanup kit.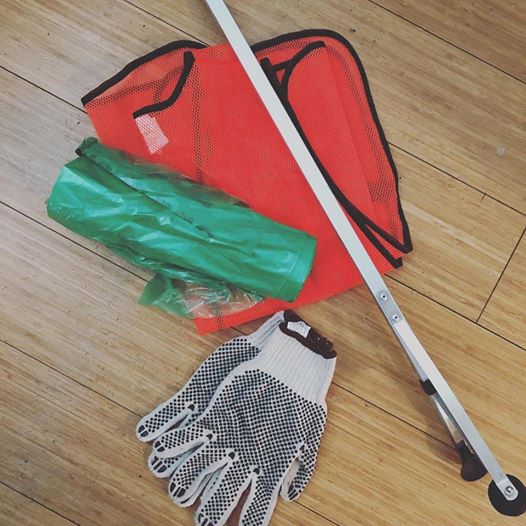 ---
Art Walk 2021, second Thursday of each month.
Art Walk Street Team! Guide attendees to art openings and restaurants during art walk night. Stroll the streets handing out maps and helping folks find the event participants. You can also register to distribute posters and maps at the beginning of each quarter.  You'll be the face of the Art Walk (with some help from Junction staff of course) by posting the Art Walk across the city calendars and guides. Love art and want to spread the word? Sign up to hand out information to businesses and artists on ways to get involved.

Sign up here for Art Walk

volunteer opportunities all throughout 2021.
---
Hometown Holiday Boxes, Wednesday, December 16th through Wednesday, December 23rd
Building on the success of the Harvest Fest boxes, we'll once again be 'shopping' the wide array of goods selected from Junction merchants. Help bring Hometown Holidays to the people by organizing, stuffing, and delivering Hometown Holiday boxes to West Seattle families. We'll be stuffing up to 500 Hometown Holiday boxes for kids and adults with crafts, items from the Junction, and other treats. There will be two shifts per day to maintain social distancing. Sign up here!
---
Volunteer Orientation Saturday, January 16th, 2021, 10 am  – 11 am.
Junction Office: 4210 SW Oregon St, Suite A. We are located above Shadowland on California Ave and SW Oregon. Enter off Oregon, look for the red door. The Junction office is the first door on the right.

Join the Facebook invite right here.

---
West Seattle Late Summer Wine Walk, Friday, September 10th, 2021, 2021 5 pm to 9 pm.
It's time for wine! Join the Junction as we host the Late Summer 2021 Wine Walk. We need your help in producing another very popular Wine Walk. You can sign up now to help set up, check people in, take photographs or rove the streets. Each volunteer will receive a Wine Walk glass and ten tasking tickets as a thank you! It's a popular event for volunteers, so sign up right here!
Join the volunteers who make the West Seattle Junction a great place!
---
You should also register at the West Seattle Time Bank! After you hit the submit button, come back to the volunteer page to check out how to get involved with one of our favorite volunteer resources!
The mission of the West Seattle Junction Association is to develop, encourage, promote, and participate in activities that enhance a healthy economic, social, and environmental climate for the West Seattle Junction community.
The West Seattle Junction Association was established as a Business Improvement Area in 1987 to carry out parking, clean up, beautification, and promotional activities in the business district. Our efforts are directed to create a vibrant community business district with a healthy mix of small specialty businesses and smaller retail chains that will attract shoppers for their recreational, dining, and shopping needs. One of the largest community events is the West Seattle Summer Fest, our annual three-day summer street festival.
West Seattle Junction is registered as a 501(c)(3) nonprofit. The Junction Association is active on The World is Fun, VolunteerMatch.org AllForGood.org and Idealist.org