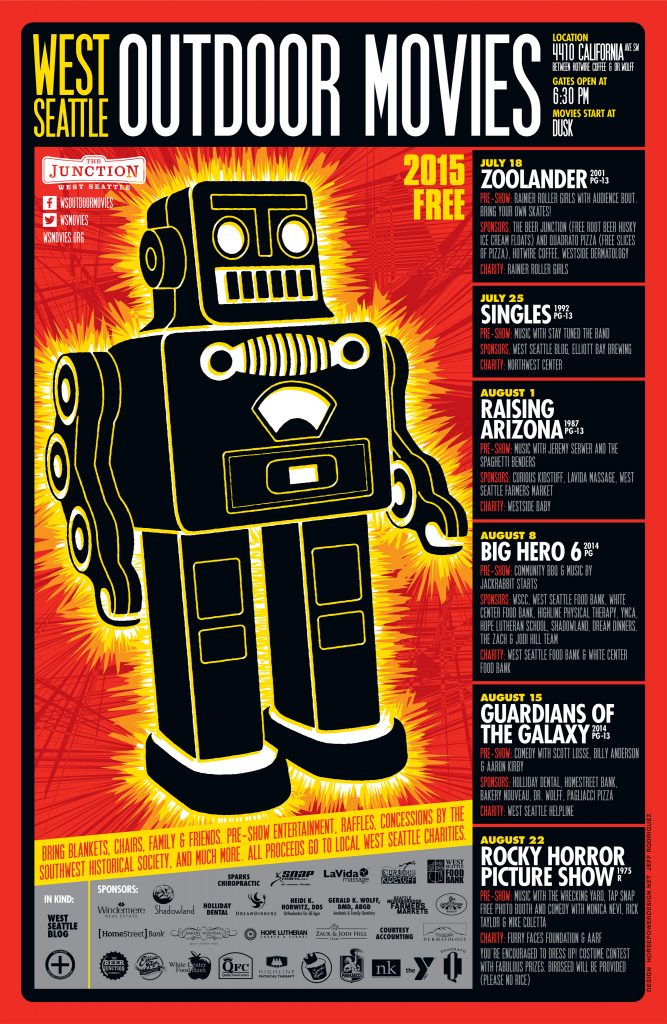 We are excited to announce the full line-up for 2015 West Seattle Outdoor Movies! Our summer season of films begins the weekend after Summer Fest (Saturday, July 18th). We will be showing a new movie each Saturday for 6 weeks, featuring a wide range of awesome films including family-friendly picks, action-packed blockbusters, and cult favorites.
All movies start at dusk and will be held in the courtyard between Hotwire Online Coffeehouse and Dr. Wolff, Aesthetic and Family Dentistry at 4410 California Ave. SW. There will be plenty of pre-movie activities too with live music, entertainment, movie shorts, and much more.
Each movie event will also feature a fun raffle to benefit a local charity. Here's the complete line-up:
Saturday, July 18th
Movie:  Zoolander 2001 PG-13
Pre-show: Rainier Roller Girls with audience bout.  Bring your own skates!
Sponsored by: The Beer Junction (free root beer Husky Ice Cream floats) and Quadrato Pizza (free slices of pizza), Hotwire Coffee, Westside Dermatology
Charity:  Rainier Roller Girls
Saturday, July 25th
Movie:  Singles 1992 PG-13
Pre-show: Music with Stay Tuned the Band
Sponsored by: West Seattle Blog, Elliott Bay Brewing,
Charity: Northwest Center
Saturday, August 1st
Movie: Raising Arizona 1987 PG-13
Pre-show: Music with Jeremy Serwer and the Spaghetti Benders
Sponsored by: Curious Kidstuff, LaVida Massage, West Seattle Farmers Market
Charity: WestSide Baby
Saturday, August 8th
Movie: Big Hero 6 2014 PG
Pre-show: Community BBQ & music by Jackrabbit Starts
Sponsored by: WSCC, West Seattle Food Bank, White Center Food Bank, Highline Physical Therapy, YMCA, Hope Lutheran School, Shadowland
Charity: West Seattle Food Bank & White Center Food Bank
Saturday, August 15th
Movie:  Guardians of the Galaxy 2014 PG-13
Pre-show:  Comedy with Scott Losse, Billy Anderson & Aaron Kirby
Sponsored by:  Holliday Dental, Homestreet Bank, Bakery Nouveau, Dr. Wolff, Pagliacci Pizza
Charity: West Seattle Helpline
Saturday, August 22nd
Movie: Rocky Horror Picture Show 1975 R
Pre-show: Music with The Wrecking Yard, Tap Snap free photo booth and Comedy with Monica Nevi, Rick Taylor & Mike Coletta
Charity: Furry Faces Foundation & AARF
You're encouraged to dress up!  Costume contest with fabulous prizes.  Birdseed will be provided (please no rice)
Concessions for the entire season provided by the Southwest Historical Society
2015 West Seattle Outdoor Movies
Saturday, July 18 through Saturday, August, 22nd / 4410 California Ave. SW