Simple Thanksgiving Recipe, Holiday Cookbooks and More!

<![CDATA[To celebrate this Thanksgiving Holiday Season, here are a cornucopia of ideas to draw from: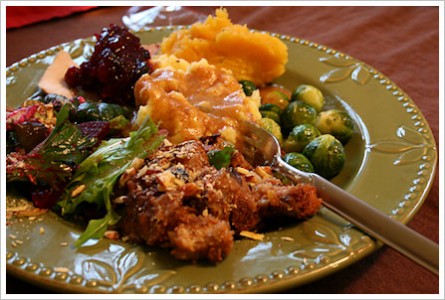 Simple Thanksgiving Recipe – Savory Roast Acorn Squash Gratin by Annette Cottrell (3rd prize winner in Eat Local Thanksgiving 2009 contest by Northwest Farmer's Market Alliance)
Roast 4 acorn squash by slicing them in half, scooping out the seeds, rubbing the cut surfaces with olive oil and roasting them in a 350 degree oven until soft when poked with a fork.
Scoop out the soft flesh and whiz it in the food processor until smooth. Add 2 tbsps of melted butter, 1 tsp salt, 1/2 tsp finely chopped fresh rosemary and 1/4 cup of sharp Samish Bay Montasio cheese.
Place the squash mixture in a small Pyrex dish, dot the surface with butter and bake in a 350 degree oven until warm and the top begins to brown around the edges.
Best Holiday Cookbooks
– Available at
Click! Design That Fits
Kim O'Donnel
Meat Lover's Meatless Celebrations
,
Cynthia Nims
Salty Snacks
(Can you say mustard soft pretzels?!), and
Jeanne Sauvage
Gluten-Free Baking for the Holidays
. Imagine, Meat-Free Thanksgiving menu ideas…Salty chips, crisps, pretzels and dips to snack on before dinner…Gluten-free desserts, rolls and more! Be sure to check out their wares at Click's Cookbook Sample Party on Thursday, November 15th from 6 to 9pm!
Holiday Kitchen Gadget Must Haves
– Eucalyptus Stoneware basket – Available at
JF
Henry
"This is the ceramic basket that does it all. Fill it with lemons on the kitchen counter. Heat it in the oven for dinner rolls. Use it to catch the mail! Eucalyptus Stoneware baskets are handmade in America, are dishwasher and oven safe, and are made with lead free glaze. We have a variety of shapes, sizes and colors. So stop by and pick yours out for the upcoming holidays!!!" – JF Henry Check our
Holidays page
for more information on Holiday events, shopping and dining options in The West Seattle Junction. Photos: Top Right – Annette Cottrell, Mid-Left – Cynthia Nims, Bottom Left – JF Henry]]>