Welcome to the 2021 Merchant Resource Page
---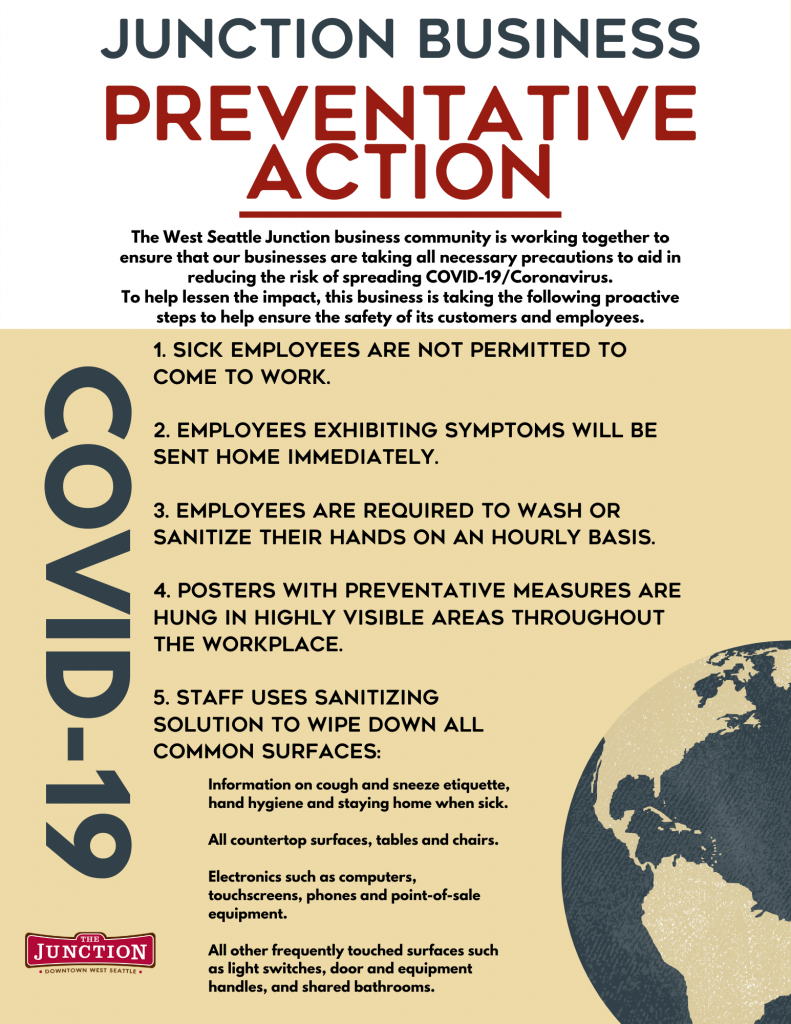 Crime question? (206) 233-1549 EMERGENCY CALL 911
Crimes that can be filed online usually do not require an in-person police response.
To file online, the following criteria must be met:
This is not an emergency situation.
The incident occurred within Seattle city limits.*
There are no known suspects or information about the crime that can be followed up on.
West Seattle Junction Snapshot
West Seattle Junction Urban Village Map
West Seattle Junction Neighborhood Design Guidelines
SDOT Seattle Squeeze Traffic Information
Quick Reference Guide_ Counterfeit Money
Best Counterfeit Money Detectors 
Contact the local Secret Service office immediately when a bad bill is passed. Hang on to the bills and call the local office at 206-553-1922.
Rambo Pest Control is the Junction preferred provider for rodent control. 20% off services, $10 per month off contracted services. Click on their website for more information or call Luke at (253) 848-6000.
Latest Newsletter 04/13/21
Join our merchant-only Facebook group
Board of Directors 2021-24
Heather Leaman Bakery Nouveau President
Larry Johnson Windermere Vice President
Allison Herzog The Beer Junction Treasurer
Ben Jenkins Shadowland and Dumplings of Fury
Jack Miller Husky Deli
Melissa Rossick Supreme
Frank Gross Thunder Road Guitars
Phil Gustavson School of Rock
Judi Yazzolino West Seattle Food Bank
Jeff Silva Flying Apron Bakery and Hotwire Online Coffeehouse
Worth Wheeler West Seattle Christian
Audrey Hartman Verity Credit Union
Todd Carden Elliott Bay Brewing (emeritus)
Staff
Lora Radford Executive Director Email Lora
Wendy and Dave Program Coordinators Email Wendy or Dave
Steve Maintainance Supervisor Email Steve