This page will be updated as supplies become available.
If you have a customer account with Sysco or Cintas, check with your rep.
Latest prices from Sysco: Disposable masks $50 for a box of 50. Hand sanitizer $100 per case of 24, 8oz bottles.
Mayor's Office Protects webpage for additional mask options.
Masks
1. 3-Ply Disposable Protective Mask 10 Pack – Order through Mike at Verizon.  $7.00 10/pack
Basic tri-fold disposable. See above $7.00 10/pack
2. A Blue Washable mask. No pricing yet/Pending shipment to the U.S.
2. B KN 95 mask. $4.00 each
Order through Mike at Verizon.
3. Hanes breathable, washable, and reusable 100% cotton mask. Order through David Groves or call 206.195.1197 $20.00 per 5 pack.
4. Custom Printed Masks Gorilla Screen Printing (SODO) Email Jason Geer or call 206.228.7200 (Cell) 206.621.1728 (Office). $10.00 per mask.
Gorilla Screen Printing Mask:
1. Each mask has a flat rate price of $12.00 per mask, for orders of (50-99). For orders of (100) masks or more, the pricing drops to $10.00 per mask. These flat rate prices include up to (4) colors of screen printing.
2. Each custom mask is locally made and manufactured by Misty Mountain in Seattle, and screen printed by Gorilla Screen Printing.
3. Each mask comes in "Black, "and other colors are available upon request.
4. Each mask will take up to (4) colors of screen printing included in the flat rate price, and graphics can be printed all over the mask.
5. Masks 100% Cotton and machine washable and not disposable.
6. Each mask has an elastic piece around the ear, making it a universal one size fits all. Flexible metal nose pieces are available for $1.00 per mask.
7. Turnaround time is typically around 10-15 business days. Please note there is a one-time screen setup fee of $25.00 per screen/color, not included in the flat rate price. We save all screens moving forward, so this fee is waived on all future mask orders that use the same screen.
5. 3 Ply Disposable Protective Earloop Face Mask – Blue. Order directly from Durapak. $21.50 for 50 (reduced price)
6. Aspen Air – Reusable Particulate Respirator Frame (PRF) Regular price $19.95 Order directly here. Use code BHThelps for 10% off (see #13 choice below for further discounts)
7. Neo Mask a donation-supported mask-making effort powered by Neo Nguyen, the mother of state Sen. Joe Nguyen. Suggested $5 – $10 donation per mask. Order directly – made locally in West Seattle.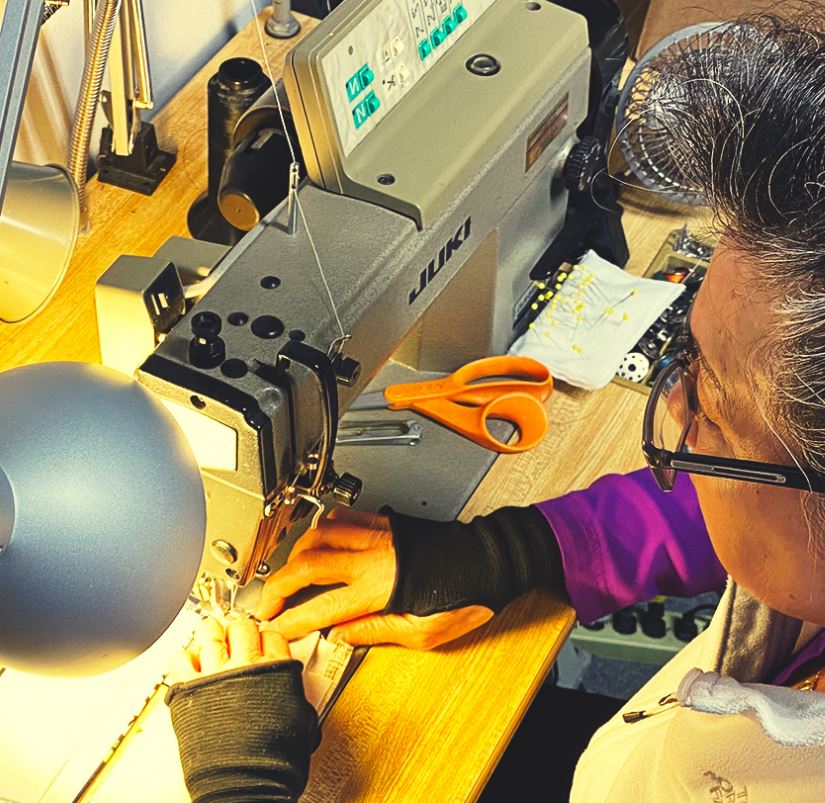 8. Kensei Goods Laser cut mask with adjustable elastic straps. The design allows for a filter to be added. 100% of the profit will go to the Coronavirus Relief Fund. Order directly. $10.00 each
9. Outdoor Research Each kit is sold with a washable, adjustable mask, a three-pack of filters and a protective storage pouch. Order directly $25.00 each 
10. Quachie Media has an array of PPEs (FDA Approved KN95 Masks, NIOSH N95 Masks, CE Certified KN95 Masks, 4-ply Surgical Medical Blue Masks, 3-ply Medical Blue Masks, Adult Reusable Valve Masks with PM2.5 Filters, Kid Reusable Valve Masks with PM2.5 Filters, PP Disposal Gowns, Blue Trim Face Shields, Yellow Top Face Shields, Kid 3-ply Masks at different prices. click here to download the price sheet to see qualifying discounts. Email John or call at 206.948.8801.  15% off all PPE, mention: WSJPPE15
11.True Value Black reusable mask, lightweight and breathable, reusable and washable. $2.99 each 
Efren Crisostomo
Phone: 206-937-6029 Fax: 206-938-2174
Email: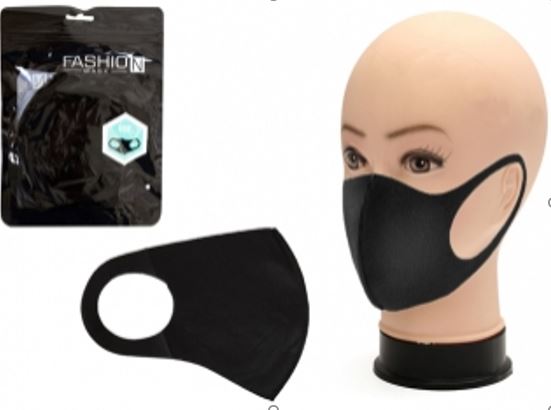 12. Local WestMan Real Estate Making Masks. Masks are $10 with 15% of proceeds going to the Small Business Relief Fund to support the West Seattle community. Email to order masks here.
13. SUBSIDIZED Face Masks via the Seattle Chamber of Commerce and Business Health Trust NO or LOW COST masks. Order directly here. 
ADCO Marketing has numerous products. Order directly.
LANCER Ltd. is located in Spokane and has disposable face masks in stock. Order directly.
Hand Sanitizer
1. Durapak Hand Sanitizer – 75% Alcohol $19.50 2/bottles 16.9 fl oz order directly from Durapak.
2. Hand Sanitizer Dispenser with Cartridge, Refills and Stands – Link for all three is here.  Order direct.
3. Seattle Sanitizer Here's a PDF of their flyer: ssflyer85 copy 8009 7thAveS#110 Seattle,WA 98108 Contact directly to order.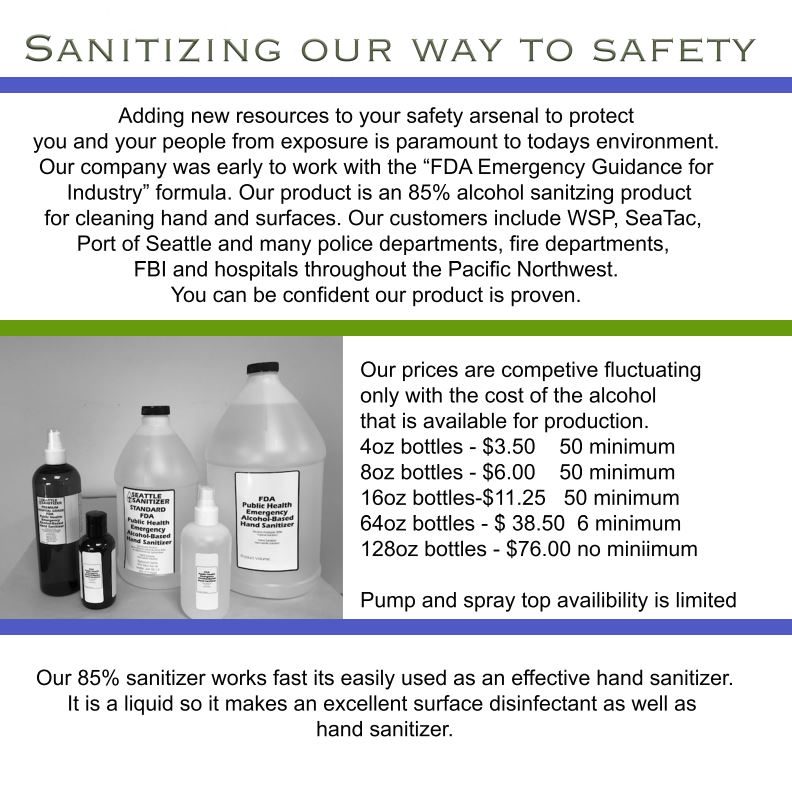 4. Junction True Value Liquid Hand Sanitizer Liquid form, not gel. Container required! Wall dispenser, pump bottle or spray bottle (recommended)
ONE GALLON $35.70 each
QUART  $11.27 each
Efren Crisostomo
Phone: 206-937-6029 Fax: 206-938-2174
Email: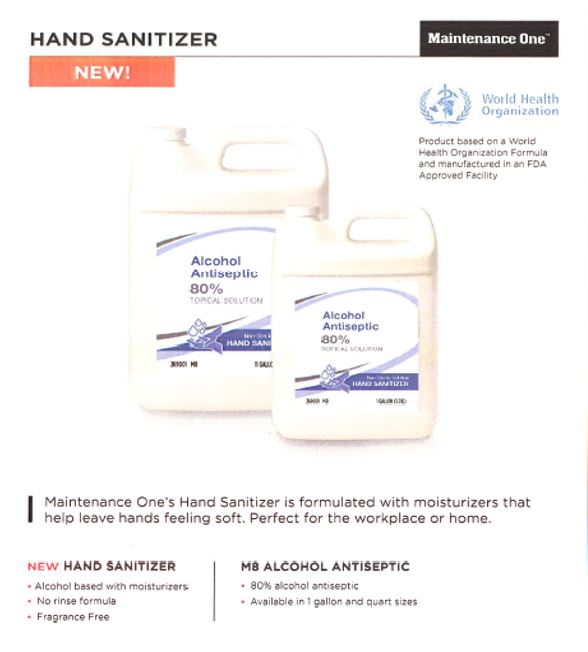 5. Bleach EPA-registered disinfectant and Sanitizer. Cost: $3.99
Efren Crisostomo
Phone: 206-937-6029 Fax: 206-938-2174
Email:
6. Pacifica Raceware Call directly to order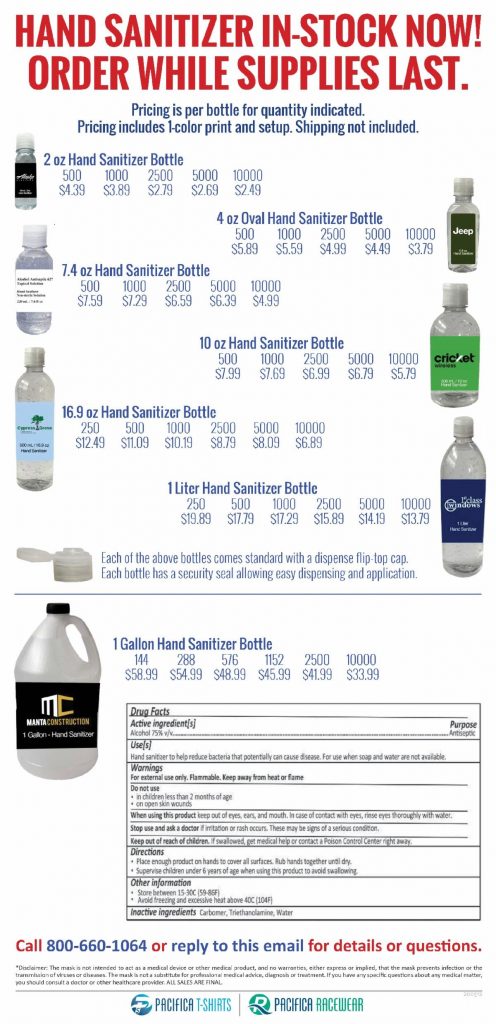 7. Evil Genius Drakes Organic Hand Sanitizer 1 gallon $35.99 each. Order directly online.
Bargreen Ellingson  – Link for hand sanitizer – Call them for the availability of products.
Gloves
1, 2 and 3. Disposable nitrile glove features a powder-free design that's perfect for cleaning. Beaded cuffs provide reliable support during extended use. Ambidextrous design conveniently fits on either hand for quick use.
Small: 100/$7.49 black
Medium: 100/$7.49 black
Large: 100/$7.49 black
X-Large: 100/$7.98 blue
Medium 100/$5.00 clear
Large 100/ $5.00 clear
Efren Crisostomo
Phone: 206-937-6029 Fax: 206-938-2174
Email:
Thermometers
1. Mike at Verizon has infrared thermometers – retails for $80, he's selling them for $44 (plus shipping). Contact Mike directly to order 206 940 3215 or 
Social Distancing Supplies
1. Amazon remains the least expensive option for social distancing supplies: tape, footprints, and vinyl floor signs. Here's a selection for you.
2. Amazon social distancing 6ft floor stickers remain reasonable. Here's a selection for you. 
3. Safely6ft.com offers social distancing supplies at a reasonable rate. These include commercial floor decals, door signs, and plexiglass shields. See the website here. 
4. Sticker Mule offers custom floor graphics. See the website here. 
5. Safety Signs has a wide variety of commercial-grade signs and floor decals. See their COVID-19 options here.  
6. Interstate Plastics Plexiglass cashier shields. Website here. 
7. White Center Glass/Seattle Plastics:  You can get cut sheets of plexiglass at White Center Glass or South Park Plastics. Then add brackets to stand on the counter etc. Two for $66. White Center Glass website or Seattle Plastics website. Order directly.
Social Distancing Posters
Click here or on the poster image for your Phase II flyers. You can right-click any of the posters/flyers to save to desktop for your social media or newsletters. A PDF of the poster/flyer can be found under the image which is sized 8.5″ x 11″ sized for printing.
Commercial Cleaning Company Referrals
True Value janitorial company that they use is Jinis Janitorial LLC. The owner Salvin has been doing my floors for 8 years now. He is certified to clean any type of business up to medical facilities. He is licensed, bonded, insured, and certified to do any type of cleaning. His phone number is 206-465-7804. Feel free to reach out to me for any other info thanks – Brian.
Seattle Cleaning Services  – You can cell/text Liz Latham, Owner at (206) 947-5407.
Emerald City Cleaning (206) 529-4700 – office. A certified WA State MWBE company