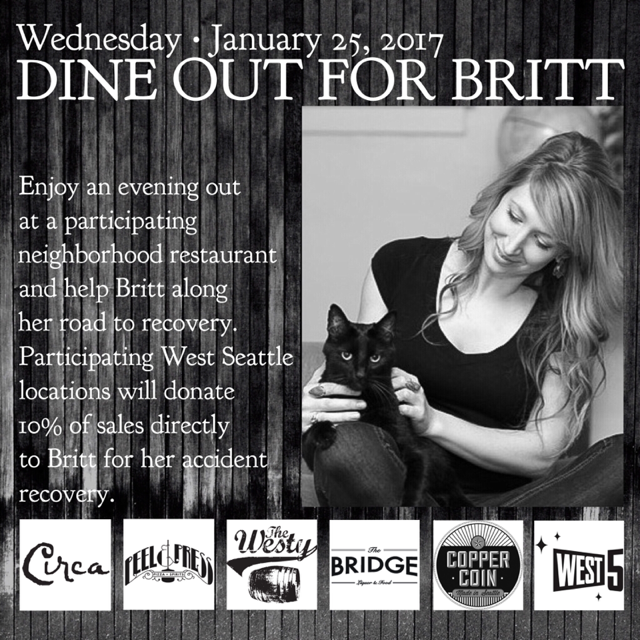 On Wednesday, January 25th the Junction's own West 5 will be joining in a fundraising effort to support Britt Russell, a local West Seattleite who was struck by a vehicle.
From Mission owner, Peter Morse:
Our employee and friend Britt Russell was struck by a car a month ago in the Admiral Junction. She was on her way into Mission to work her shift at 4:50 pm. As she walked across California Avenue, she was hit by a vehicle traveling about 30 miles per hour. She was severely injured and was at Harborview up until this week. She has a shattered pelvis, cracked neck vertebrate, broken leg, and traumatic brain injury.
Mission is holding a fundraiser on Wednesday, January 25th. We would greatly appreciate any donations to this cause. Mission will be donating 20% of all sales that evening. All the proceeds will go directly to Britt. Georgetown Brewery has donated a keg to help with the fundraiser. All the proceeds from the sales of Manny's Pale Ale that evening will go to Britt and her family.
Although she is improving greatly every day, she has a long recovery road ahead of her. She has been recently discharged and needs to begin paying rent at a new apartment that is wheelchair accessible. Not to mention the medical bills that have been piling up. Britt is from Australia and her mother has now moved to Seattle to take care of her. She is an amazing person, employee, and friend. Britt is an extremely hard worker. She was working three jobs at once and now has no form of income. She could really use the help.
On behalf of Britt's employers, coworkers, friends, and family I would like to thank any and all donations. Hope to see you Wednesday, January 25th!
Peter Morse
Shawn Padilla
Tina Padilla