Click! Design That Fits is proud to welcome artist Karen Konzuk for a special trunk on Saturday, April 16 from 10am to 5pm. Konzuk is a PNW-based jeweler working out of Vancouver, BC. She's known for her modern, minimal designs featuring industrial materials like stainless steel and concrete, often juxtaposed with precious metals and diamonds.
Konzuk's recent move from the fast-paced city to a remote coastal location provided a new venue for inspiration. Typically influenced by art, design and architecture, the designer found her attention drawn to something new – the landscape around her. "The collection is about taking a moment to appreciate things like the stars in the night sky," says Konzuk. Referencing recognizable modern sculpture and star systems, the collection utilizes concrete & diamond dust inlaid into stainless steel.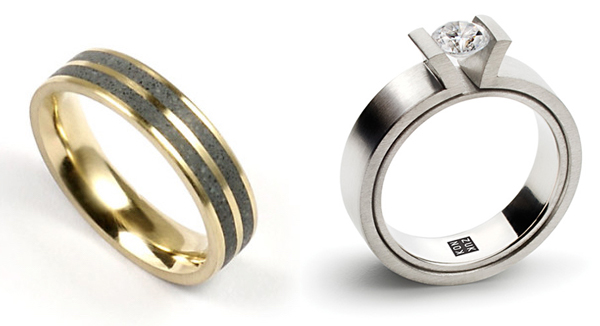 On April 16th, Click! will be holding a launch of Konzuk's Stellar collection. Along with her other jewelry collections (which feature coal black concrete and ombre concrete spheres), she will be bringing her line of modern commitment rings. Click! is excited to share that they'll have times available for people to sign up & meet with her for a ring consultation.
Expect a gorgeous spread of her full jewelry lines, and time to meet this one of a kind designer / maker.
Konzuk Trunk Show at Click! Design That Fits