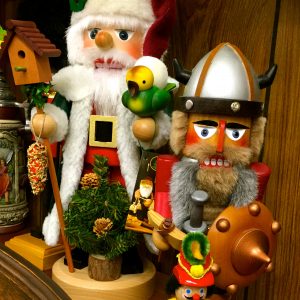 By Lori Hinton
Somewhere between Easy Street and West 5, look closely, and you'll find a little bit of magic. If you've ever walked by and wondered what goes on in Terjung's (pronounced tur-yungs), you'll discover there's more than meets the eye at this "Studio of Gifts." And some say, it's magical…
The third oldest business in The Junction (after Husky Deli, then True Value), Gregor Terjung and his family have run Terjung's Studio of Gifts for nearly half a century. Generations of kids have come here after school to buy candy. And discerning shoppers know their selection of greeting cards is unique. Terjung's also has a special collection of holiday crafts imported from Germany and Austria—from elaborate nutcrackers, snow globes and classic candle-powered wooden pyramids to tin toys and traditional advent calendars—with style and craftsmanship straight out of fairy-tales.
But the real magic lies in the owner's hidden tricks and talents, and the sparkle in his eye when he's asked to share them with you. Once a lithographer, Gregor crafts custom foil stamped invitations, cards, ribbons and more. He creates hand cut gift boxes and goody bags filled with candy and party favors. He sews fun, festive aprons. And in the back of the shop, where he used to teach couples bread-making classes (back in the day), he pulls out his magic tricks, wowing kids of all ages.
"I love it when old timers come in and reminisce," smiles Gregor. But he really lights up when he can introduce new kids to the magic of days' past. Ask him to see the sponge ball, or show you his magic pen trick.
Terjung's is the picture of what it means to be a small, family-run business in The Junction—a magical little piece of West Seattle history you can still enjoy today. So stop by for a cup of cocoa on Small Business Saturday, November 29th (or any day) and discover, or perhaps re-discover the magic for yourself.
Terjung's Studio of Gifts
4547 California Ave SW
Seattle, WA 98116
(206) 937-6250
Hours:
Mon-Fri 9:30AM- 6PM
Sat 9:30AM-5:30PM
Sun 11AM-4PM (Special holiday hours now through Dec 31st)