Cinco de Mayo is not the Mexican Fourth of July. (Mexico celebrates its independence from Spain on September 16.) It is a holiday that commemorates the Battle of Puebla against the French in 1862. Cinco de Mayo has become an ethnic holiday celebrating Mexican culture and the Mexican army's never-give-up spirit (or those of us who root for the underdog). So, let the celebrating begin!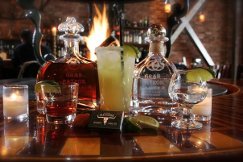 For food and drinks, The Matador has music, happy hour (and late night happy hour), margaritas and 95 tequilas! Elliott Bay Brewery is serving up Stabas Cocoa Stout (that's stout+cocoa+tabasco barrel-aged beer) and Steak Saltado. And of course, Puerta Vallarta Mexican Restaurant and Tacos Guaymas have all of the traditional Mexican fare.
Now for dessert! Cupcake Royale has the Scorcher Cupcake – Moist chocolate cake Royale, topped with a warm spicy cream cheese frosting, Theo's all-organic Spicy Chile chocolate, with hints of cinnamon and orange oil. Mmmmm. Hotwire has the super yummy Lulu's Mexican Chocolate – a secret blend of dutch processed chocolate, cane sugar and Lulu's spices. Delicious in hot chocolate, mochas or americanos (and available for individual purchase so you can make it at home)!