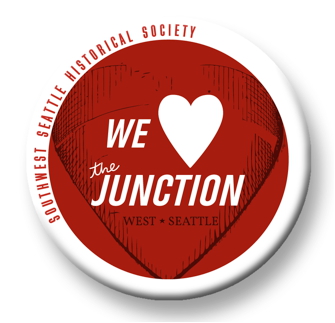 With Valentine's Day less than two weeks away, our "We Love The Junction" Task Force has a unique way for you to obtain a FREE digital valentine with your sweetie and show your love for the Junction at the same time. It's called "Be My Junction Valentine." Here's how it will work:
From 10 a.m. to 2 p.m. this Sunday, Feb. 5, 2017, the task force will be at West Seattle Farrmers Market taking FREE valentine photos at the northeast corner of the Junction in front of the Campbell Building, 4554 California Ave. S.W. (main tenant: Cupcake Royale).
YOU – with a companion, with your family or even by yourself – will be able to pose for a valentine photo while holding a "We Love The Junction" sign.
The first 25 people to have their "Be My Junction Valentine" photos taken will receive a free Cupcake Royale "Babycakes" cupcake – one cupcake per photo.
From the Southwest Seattle Historical Society